Episodes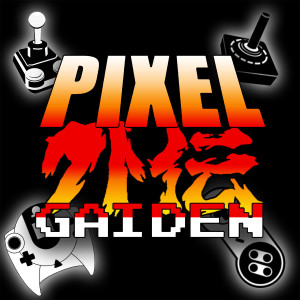 Sunday May 15, 2022
Sunday May 15, 2022
We're back for Episode 82!

In this episode Cody and Eric catch up on the news + 6 Good 80s Arcade Games Modern Kids Will Like
We are doing news for the first monthly episode and then "catching up" later in the month.
Episode Guide
-------------------
5:48 - Quick Questions
17:41 - Errata
22:26 - Patreons
27:29 - Eric's Take
51:53 - Tea Time With Tim
1:04:40 - News
1:52:58 - 6 Good Games
News -    
(Tim) C64 release bonanza! - Out this month are some awesome C64 games and previews 
Empire Strikes Back C64 Fan version from MegaStyle -  
40 years after the Atari and Intellivision games were released, Megastyle is now proud to present to you: The Commodore 64 fan version of the original Parker Brothers game "Empire Strikes Back". We have tried to remake the Atari 2600 version into a Commodore 64 version, but also added our own touch to the game. 
https://megastyle.itch.io/esb-by-megastyle 
NEW RALLY-X (news item from Indie Retro News) - The original game Rally-X was an overhead maze game released in the 1980's by Namco in which you drove around a maze like screen collecting flags for a high score and avoiding other cars or well play placed rocks. This latest version however by Jake79 is not only coming on really nicely and sounds fantastic even at this preview stage, but the game is well on its way to completion, and we may have a final version in the near future. 
http://www.indieretronews.com/2022/05/new-rally-x-arcade-conversion-of-rally.html 
Download - https://www.dropbox.com/s/s402tkv784yjh8i/rallyx64v035.prg?dl=0 
Munchkin 64 - Re-live Munchkin, the classical maze-eater (also known as K.C. Munchkin on the Magnavox Odyssey 2) ported to the legendary 8-bit computer Commodore 64 by Pretzel Logic  
Comes packed not only with the original game (including random mazes and maze editor), but also ten user mazes and an arcade version with 96 different levels, 58 mazes and new challenges for Munchkin along the way. 
https://pretzel-logic.itch.io/munchkin64 
(Cody) http://www.indieretronews.com/2022/05/this-upcoming-pinball-game-for-ti-994a.html 
(Eric) - Scorch - A Scorched Earth clone gets another preview for the Atari XL/XE 
http://www.indieretronews.com/2022/05/scorch-scorched-earth-clone-gets.html 
(Cody) Atari gets out of Atari Coin and its Hotel Chain Idea 
https://www.globenewswire.com/news-release/2022/03/30/2413274/0/en/Atari-announces-the-termination-of-its-relationships-with-Crypto-Blockchain-Industries.html 
(Eric) This spaceship shoot 'em up is kinda like Vampire Survivors - https://www.rockpapershotgun.com/this-spaceship-shoot-em-up-is-kinda-like-vampire-survivors 
(Eric) Switch controlelr that promises never to drift? - https://www.nintendolife.com/news/2022/05/meet-the-switch-controller-that-promises-no-drifting-ever 
(Cody) Remote Life R-Type style shmup to release on consoles May 27th. 
https://store.steampowered.com/app/1126420/REMOTE_LIFE/ 
(Eric)  - SD based Dreamcast VMU? Hellz Yeah! - https://www.retrorgb.com/vm2-a-sd-card-based-dreamcast-vmu-announced.html 
(Cody) It's Official, Metroid Dread Is The Best-Selling Game In The Metroid Series https://www.nintendolife.com/news/2022/05/its-official-metroid-dread-is-the-best-selling-game-in-the-metroid-series 
(Cody) 
(Cody) Any SteamDeck reviews you have heard? 
(Eric) - The Great Giana PETSCII Sisters gets a release on the C64! 
http://www.indieretronews.com/2022/04/the-great-giana-petscii-sisters-gets.html 
(Cody) https://www.nintendolife.com/news/2022/05/after-the-game-boy-like-gameshell-clockwork-pis-next-trick-is-a-computer-you-build-yourself 
(Eric) - Review: RAD2X Is The Only HDMI Cable You Need For Your Retro Consoles 
https://www.nintendolife.com/reviews/rad2x-is-the-only-hdmi-cable-you-need-for-your-retro-consoles 
(Cody) NEWS OF THE WIERD 
https://retrododo.com/golden-nintendo-wii/ 
Please give us a review on Apple Podcasts!
Thanks for listening!
You can always reach us at podcast@pixelgaiden.com. Send us an email if we missed anything in the show notes you need. You can now support us on Patreon. 
Thank you to Henrik Ladefoged, Roy Fielding, Matthew Ackerman, Josh Malone, Daniel James, 10MARC, Eric Sandgren, David Motowylak, Retro Gamer Nation, Maciej Sosnowski, Paradroyd, RAM OK ROM OK, Mitsoyama, David Vincent, Ant Stiller, Mr. Toast, Jason Holland, Mark Scott, AmiWest,  and Paul Jacobson for making this show possible through their generous donation to the show.