Episodes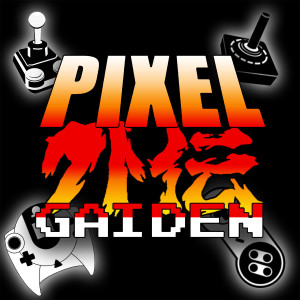 Saturday Jul 15, 2023
Saturday Jul 15, 2023
We're back for Episode 110!

In this episode Cody and Eric catch up on the news +  Battle Of The Systems: Marathon (Mac) vs Star Wars: Dark Forces (PC)
We are doing news for the first monthly episode and then "catching up" later in the month.
Episode Guide
----------------
9:56 - Quick Questions
26:09 - Patreon Song
30:20 - Tea Time With Tim - PU +2
54:46 - News
1:44:07 - Battle Of The Systems: Marathon vs Star Wars: Dark Forces
News -    
(Tim) - You Can Now Play A Bunch Of New ZX Spectrum Games Made Entirely By Kids! 
The Primary 6 pupils of Bearsden Primary have been working on these games all year. They have designed and animated their characters; coded their games; designed and tested their levels and created a loading screen.  We really hope you enjoy our creations and we'd love to hear your feedback! 
The games are available on "Dougie mcg" Itch.io website, he is the teacher that has been running the class at the school. 
https://www.timeextension.com/news/2023/06/you-can-now-play-a-bunch-of-new-zx-spectrum-games-made-entirely-by-kids 
https://dougie9mcg.itch.io/zx-spectrum-games-by-bearsden-primary-2023 
(Eric) - Neo Geo USB Wireless (2.4Ghz) controller pre-order - https://www.amazon.com/dp/B0C9BZR395/ref=cm_sw_r_as_gl_api_gl_i_74TPJNGGBP8P69MZEX3P?linkCode=ml1&tag=misteraddons-20&th=1 
(Cody) myst on Atari  https://www.timeextension.com/news/2023/07/myst-is-getting-an-unofficial-port-for-the-atari-2600 
(Tim) - Hamster Corp has announced that Namco's influential arcade racer Pole Position will be heading to the Nintendo Switch & PS4 on July 6th as part of Arcade Archives. 
https://www.timeextension.com/news/2023/06/namcos-influential-arcade-racer-pole-position-comes-to-nintendo-switch-and-ps4-next-month 
https://www.youtube.com/watch?v=FFs1Xc82Q0U 
(Eric) Til The Gods Devour Us – Pico-8 micro-strategy game with tower defense and board game-inspired elements - https://www.reddit.com/r/pico8/comments/14mzhzm/til_the_gods_devour_us_a_pico8_microstrategy/ 
(Cody) https://www.timeextension.com/news/2023/07/a-massive-collection-of-lost-gaming-history-is-getting-preserved 
(Eric) - Dodonpachi Shirt - https://www.etsy.com/listing/908058958/dodonpachi-unisex-t-shirt-cave-stg-shmup?ref=share_v4_lx 
(Cody) https://www.timeextension.com/news/2023/07/bitmap-bureaus-final-vendetta-is-coming-to-neo-geo 
(Tim) - Big Nintendo Direct June news! - New 2D side scroller Super Mario Bros. Wonder. 
Classic Mario side-scrolling gameplay is turned on its head with the addition of Wonder Flowers! These game-changing items trigger spectacular moments you have to see to believe. Witness pipes coming alive, wreak havoc as a giant spiky ball, and see even more unexpected events called Wonder Effects. 
https://www.nintendo.co.uk/Games/Nintendo-Switch-games/Super-Mario-Bros-Wonder-2404150.html#Gallery 
(Eric) - PC Engine – The Box Art Collection - https://retroarcadia.blog/2023/07/05/book-review-pc-engine-the-box-art-collection/ 
(Cody) Homebrew Games Summer Showcase Homebrew Games Summer Showcase 2023 
(Tim) - Also on the Switch, PS4, PS5, XBox latest of a line of new Sonic games, Sonic Superstars where you adventure through the mystical Northstar Islands in this all-new take on classic 2D Sonic high-speed action platforming. Play as Sonic, Tails, Knuckles, and Amy Rose and harness all-new Emerald powers to move and attack in dynamic new ways. Due late 2023 
https://sonicsuperstars.com/?lang=uk 
(Eric) - Amiga 500 Maxi Confirmed? - https://www.youtube.com/watch?v=OXWmbEU7lYg 
(Cody) So this is about to drop! https://stoneagegamer.com/7800-gamedrive.html 
(Tim) For all the Ultimate 1541 and Ultimate 64 owners out there. New firmware has been released by Gideon. Now you can update your devices to v3.10j. Various improvements, too many to list as this is the first update since 3.10a in 2021 according to the release notes so if you have one, you will want to get this installed (I did 😊) 
https://ultimate64.com/Firmware 
(Cody) https://www.timeextension.com/news/2023/07/voltrex-is-a-free-galaga-style-game-where-you-control-the-aliens 
https://www.timeextension.com/news/2023/07/hypermega-techs-super-pocket-is-a-game-boy-style-handheld-which-plays-evercade-carts 
https://www.timeextension.com/news/2023/07/you-can-now-pre-register-for-googles-new-ar-space-invaders-experience 
(Eric) From Pajaco on Discord: https://www.hypermegatech.com/ 
Please give us a review on Apple Podcasts!
Thanks for listening!
You can always reach us at podcast@pixelgaiden.com. Send us an email if we missed anything in the show notes you need. You can now support us on Patreon. 
Thank you to Henrik Ladefoged, Roy Fielding, Matthew Ackerman, Josh Malone, Daniel James, 10MARC, Eric Sandgren, Brian Arsenault, Retro Gamer Nation, Maciej Sosnowski, Paradroyd, RAM OK ROM OK, Mitsoyama, David Vincent, Ant Stiller, Mr. Toast, Jason Holland, Mark Scott, Vicky Lamburn, Mark Richardson, Scott Partelow, Paul Jacobson, and Adam from Commodore Chronicles for making this show possible through their generous donation to the show.

Support our sponsor Retro Rewind for all of your Commodore needs! Use our page at https://retrorewind.ca/pixelgaiden and our discount code PG10 for 10%