Episodes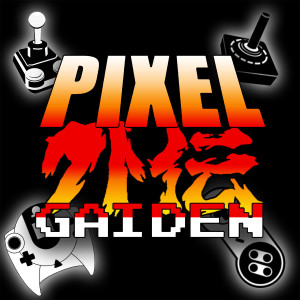 Tuesday Aug 15, 2023
Tuesday Aug 15, 2023
We're back for Episode 112!

In this episode Cody and Eric catch up on the news +  Battle Of The Systems: 8 Bit Batman games (NES and PC Engine)
We are doing news for the first monthly episode and then "catching up" later in the month.
Episode Guide
----------------
6:16 - Quick Questions
23:16 - Patreon Song
27:15 - Tea Time With Tim - TheC64 & MiSTer Multisystem
47:58 - Eric's Take - Favorite Games On Owned Systems
1:12:09 - News
2:05:15 - Battle Of The Systems: 8 Bit Batman Games
NEWS
Tim - Sams Journey from the wonderful people at Knights of Bytes takes a step closer to coming to you on the NES. Pre orders are now open on the PolyPlay website. A disappointment that at the moment there is no USA distribution announced yet. However, you can pre order for the sum of 60 Euros for the NES and they also are doing a Famicom version. There is also the Ultimate Edition for 180 Euros 
https://www.polyplay.xyz/search/?lang=eng&qs=sams+journey+nes 
(Cody) - Evercade Showcase Vol. 2 - Indie Special 
Tim – Our show friend and retro game maker legend Juan J. Martínez has done it again! This time Juan is delighting us with a fantastic little platformer for DOS... yes that's right a DOS game! The game is Gold Mine Run! Its heavily influenced by Night Knight on the MSX another game by Juan... but that's no bad thing as that's also a great game. Check it out on Juan's website, if you do download and play it, don't forget to throw Juan a few bucks / pounds / euros his way on his Kofi site. He does not do it for the money, but it helps to show appreciation for his continued efforts making games for us mere game playing mortals that cant code for toffees! It's a Bobby Dazzler (also a good name for Juan's next game!) 
https://www.usebox.net/jjm/gold-mine-run/ 
Tim - Sonic Fans Want To Raise $4,000 To Preserve Insanely Rare 'SegaSonic' Arcade Game. 
SegaSonic The Hedgehog is one of the blue blur's lesser-known adventures. Released in Japan in 1993, it has never been re-released on any home system – nor has it been included on any of Sonic's many respective collections. 
https://www.timeextension.com/news/2023/07/sonic-fans-want-to-raise-usd4000-to-preserve-insanely-rare-segasonic-arcade-game 
Cody - https://www.timeextension.com/news/2023/08/capcom-arcade-classic-1942-just-got-a-stylish-p349-watch 
Cody - https://retrododo.com/shantae-risky-revolution/ 
Eric – Whiplash Taxi Co for Pico 8 - https://www.lexaloffle.com/bbs/?tid=53583 
Tim – New game for your PET.. Nope it's not an RPG for your pet Rat. It's a new game for the Commodore PET.  A new homebrew has been relased by Fuzzybad (Mastodon: @fuzzybad@mastodon.social) called PET Light Cycles this is a take on the Tron light cycle game. Not only has this game got great use of the PET graphics but also has sound and music on the title screen. Available as a free to download on Fuzyybad's Itch site, but please leave a tip to show your appreciation. 
https://fuzzybad.itch.io/pet-light-cycles 
Cody - https://www.amazon.com/Mechanical-Keyboard-Bluetooth-Swappable-Programmable-PC/dp/B0CCP8KYGG/ref=sr_1_1?crid=B425IJKVJWW0&keywords=8bitdo+keyboard&qid=1690928998&s=videogames&sprefix=8bitdo+keyboard%2Cvideogames%2C148&sr=1-1 
Eric -  The CRT Eliminator Is a VGA Card Add-On That Supplies Native Digital Video 
https://www.hackster.io/news/the-crt-eliminator-is-a-vga-card-add-on-that-supplies-native-digital-video-b5a461c4f696 
Tim – Dig Dug Revival for the C64 - This game is a homage to Dig Dug, an arcade game developed by Namco in 1982. In this version, the playfields are generated randomly. The game works perfectly on both PAL and NTSC models. 
https://lowcarb.itch.io/dig-dug-revival-c64 
https://www.youtube.com/watch?v=GLaQW8Jr7Wg 
(Cody) - https://retrododo.com/8bitdo-retro-receiver/ 
(Cody) - https://retrododo.com/retro-fighters-strikerdc/ 
Eric – Wrestlequest is FINALLY out! Aug 7th - (Psych! It's now pushed back to the 21st) https://store.steampowered.com/app/1867510/WrestleQuest/ 
Tim – Rogue Declan Zero is now out for the Amiga. A challenging, procedurally generated, roguelite twin-stick shooter for the Classic Amiga platform! 
https://nivrig.itch.io/rogue-declan-zero 
(Cody) News of the WIERD!!! 
https://retrododo.com/pizza-scented-xbox-controllers/ 
https://whynowgaming.com/atari-launches-new-range-of-replica-arcade-circuit-boards/ 
https://www.timeextension.com/news/2023/07/an-earthbound-pop-up-shop-is-about-to-tour-japan 
Tim – Ron Gilbert (He of Monkey Island fame) Tooted the release of the Android OS version of Monkey Island is now available on the play store. So if you like Monkey Island and you're an Android user go get it I guess! 
https://oldbytes.space/@grumpygamer@mastodon.gamedev.place 
https://play.google.com/store/apps/details?id=com.devolverdigital.com.rtmi&pli=1 
(Cody) - https://www.timeextension.com/news/2023/07/lost-taito-game-crescent-tale-resurfaces-26-years-later 
Please give us a review on Apple Podcasts!
Thanks for listening!
You can always reach us at podcast@pixelgaiden.com. Send us an email if we missed anything in the show notes you need. You can now support us on Patreon. 
Thank you to Henrik Ladefoged, Roy Fielding, Matthew Ackerman, Josh Malone, Daniel James, 10MARC, Eric Sandgren, Brian Arsenault, Retro Gamer Nation, Maciej Sosnowski, Paradroyd, RAM OK ROM OK, Mitsoyama, David Vincent, Ant Stiller, Mr. Toast, Jason Holland, Mark Scott, Vicky Lamburn, Mark Richardson, Scott Partelow, Paul Jacobson, and Adam from Commodore Chronicles for making this show possible through their generous donation to the show.

Support our sponsor Retro Rewind for all of your Commodore needs! Use our page at https://retrorewind.ca/pixelgaiden and our discount code PG10 for 10%