Episodes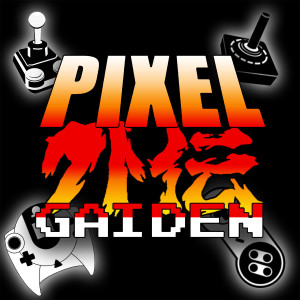 Tuesday Jun 15, 2021
Tuesday Jun 15, 2021
We're back for Episode 60

In this episode Cody and Eric catch up on the news and Battle Of The Systems: Alternate Mascots: Kirby's Adventure (NES) vs. Psycho Fox (SMS)
We are doing news for the first monthly episode and then "catching up" later in the month.
Episode Guide
---------------
Quick Questions 5:54
Patreon 13:56
News 22:24
Eric's Take (Yoshi's Island) - 1:16:04
Tea Time With Tim (C64) - 1:21:30
Battle Of The Systems - Alternate Mascots: Kirby's Adventure (NES) vs. Psycho Fox (SMS) - 1:51:08
News
---------- 
(Cody) Playdate News - https://www.slashgear.com/playdate-handheld-nears-release-with-price-hike-new-games-and-a-video-update-04676316/ 
(Eric) RamOk RomOk retro forum - https://ramokromok.com/forums/ 
Also Pico8 Game pository! 
(Cody) https://www.nintendolife.com/news/2021/06/mario_plus_rabbids_sparks_of_hope_officially_unveiled_with_reveal_trailer 
https://www.nintendolife.com/news/2021/06/doki_doki_literature_club_plus_arrives_later_this_month_on_switch 
(Eric) Nixie The Glade Sprite for c64 released -- http://www.indieretronews.com/2021/06/nixy-glade-sprite-fabulous-zx-spectrum.html 
(cody) TURBO ARCADE - An awesome racing game is coming 2022 to your Atari 2600, demo now available 
http://www.indieretronews.com/2021/06/turbo-arcade-awesome-racing-game-is.html 
(Eric) R-Type (PICO-8) - a near perfect fan-made PICO-8 powered port of R-Type, complete with power-ups, force sphere, music & big boss battles! - https://www.alphabetagamer.com/r-type-pico-8-beta-demo/ 
(Cody) Logan Paul fights Floyd Mayweather with the help of Atari. 
(Eric)Razion Ex – Coming to Nintendo Switch - http://razion.ngdevteam.com/index.html 
(Tim) MiniPet 40/80 kit from TFW8B is finally here. Brand spanking new PET computer technical design by Dave Curran of Tynemouth Software and everything else by TFW8B. Shipping very very soon. Pre-orders for first batch almost sold out. Build yourself kit with new designed Keybaord, however this does not include green jelly! 
https://www.thefuturewas8bit.com/minipet4080.html 
(Cody) 3 more Channel F Games! 
https://ramokromok.com/threads/three-more-channel-f-ports-created-by-arlasoft-2048-threes-and-centipede.1206/ 
Also, Atari 2600 Shadow of the Beast is out! 
https://ramokromok.com/threads/atari-2600-version-of-shadow-of-the-beast-finished.1027/ 
(Tim) - Amiga OS 3.2 is now shipping via vairous software / hardware vendors. Some selling just the CD's but most selling ROMS and pre-built CF cards. Advisable to anyone thinking of getting it, do it soon just in case any legal issues hold it up. 
https://www.hyperion-entertainment.com/index.php/news/1-latest-news/290-amigaos-42-for-all-classic-amigas-released-and-available 
(Cody) The Scorpion Engine - The next best creation tool for the Amiga? 
(Cody) https://www.nintendolife.com/news/2021/06/classic_arcade_game_the_simpsons_will_get_a_new_cabinet_this_year 
(Eric) Taito Egret II mini – https://www.theverge.com/2021/6/4/22518220/taito-egret-2-mini-announced-arcade-cabinet-trackball-paddle-controller-price-date  
(Cody) - Modern battery solution for the Original Gameboy 
 https://www.nintendolife.com/news/2021/06/ready_to_ditch_those_aa_batteries_check_out_the_amazing_cleanjuice_game_boy_mod 
(Tim) Doug – 10MARC has announced the 2021 Amiga Art competition. Deadline 21st of October. More details coming soon so keep an eye out on Dougs awesome YouTube channel 
(Cody) Niantic to release Transformers Game - https://www.nintendolife.com/news/2021/06/pokemon_go_developer_niantic_announces_transformers_heavy_metal 
(Cody) https://www.nintendolife.com/news/2021/06/devolver_digital_is_publishing_a_physical-only_nintendo_switch_game 
(Eric) New Wonderswan core on MiSTerFPGA has been released. All sorts of good features, TATE, save states, rewind.  
Please give us a review on Apple Podcasts!
Thanks for listening!
You can always reach us at podcast@pixelgaiden.com. Send us an email if we missed anything in the show notes you need. You can now support us on Patreon. 
Thank you to Henrik Ladefoged, Roy Fielding, Garry Heather, Matthew Ackerman, Josh Malone, Daniel James, 10MARC, Eric Sandgren, David Motowylak, Team Gray All The Way, Maciej Sosnowski, Paradroyd, RAM OK ROM OK, Mitsoyama, David Vincent, Ant Stiller, CityXen, Hermski, VaderGB, Mr. Toast, and Dustin Newell for making this show possible through their generous donation to the show.