Episodes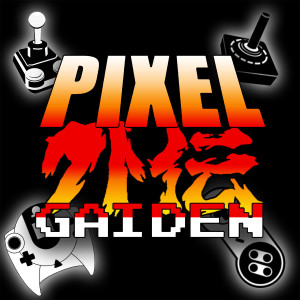 Friday Jul 15, 2022
Friday Jul 15, 2022
We're back for Episode 86!

In this episode Cody and Eric catch up on the news + 6 Good Frog Games.
We are doing news for the first monthly episode and then "catching up" later in the month.
Episode Guide
----------------
4:34 - Quick Questions
15:40 - Tea Time With Tim
34:00 - Patreons
38:06 - Cody's Corner
58:40 - News
1:37:44 - 6 Good Games
News
--------
(Cody) https://www.gematsu.com/2022/06/150-microgames-collection-atari-mania-announced-for-switch-pc-and-atari-vcs 
(Cody) https://eldenpixels.itch.io/alwas-awakening-the-8-bit-edition 
(Eric) Rise Of The Frankensystems -  
Sega Dreamcast Portable 2021 a Beast of a Handheld ! 
(Cody) Krikzz Firmware updates 
(Tim) - Kung Fu Flash Firmware update to v1.41. Better disk emulation support and ability to switch drive numbers. Also now able to control the menu with Joystick 
https://github.com/KimJorgensen/KungFuFlash/releases/tag/v1.41 
(Eric) Cool Game Boy DMG Advance Mod - https://retrododo.com/game-boy-dmg-advance/ 
(Cody) Swap Meet FlashMasta - https://www.flashmasta.com/swap-meet-flash-masta/ 
(Tim) - Reset64 Craptastic 2022 4k games compo. The games starting to make their way out now as the entry date has passed. Some excellent releases including Brum Brum by all round top bloke and C64 coding legend Roy "Roysterini" Fielding, other highlights so far are Circles, Marble Boy and Poke. This year will be a hard one to judge. A complete pack should be available by the time this episode airs via Reset64 Itch.io page 
https://www.youtube.com/watch?v=UTtZo6FfrZ4 - Marble Boy 
Circles (C64 4k Game 2022) - Gameplay - Circles 
(Tim) Friend of the show, Ricki Sickenger @bagofhats on Twitter of Badger Punch Games has released their fun western themed shooter Showdown on the Mega C65. It's much enhanced for the Mega 65 as you would imagine with new graphics and sound. Its also going to get a full price physical release. In the mean time you can pick it up on his Itch.io site for 5 bucks! 
https://badgerpunch.itch.io/showdown-mega65 
(Eric) Creeping Me Out Hex Night – Upcoming platformer for Amiga. 
 https://www.indieretronews.com/2022/07/creeping-me-out-hex-night-mixels-amiga.html#more 
(Tim) C64 Puzzle classic Mike and Molly by Carleton Handley and his other C64 releases like Runn 'n Gunn have been made available for FREE by Carleton on his itch.io page. There are some cracking C64 games here and if you have not had a chance to try them, now is the time to pick them up! 
(Eric) Lykia – The Lost Island for c64 and plus/4 available July 14th and physical copies later this year - https://twitter.com/RetroGamerNatn/status/1546627026198466560?s=20&t=jz4MXAYdFI7vZ0EzGsLtCA 
C64 Round Up: March 2022 featuring Lykia - The Lost Island Preview 
JRPG for c64! 
(Cody) New evercade carts announced!  https://evercade.co.uk/alwas-awakening-cathedral-evercade/ 
Alwas awakening –Cathedral and the C64 Collection! 
Please give us a review on Apple Podcasts!
Thanks for listening!
You can always reach us at podcast@pixelgaiden.com. Send us an email if we missed anything in the show notes you need. You can now support us on Patreon. 
Thank you to Henrik Ladefoged, Roy Fielding, Matthew Ackerman, Josh Malone, Daniel James, 10MARC, Eric Sandgren, Brian Arsenault, Retro Gamer Nation, Maciej Sosnowski, Paradroyd, RAM OK ROM OK, Mitsoyama, David Vincent, Ant Stiller, Mr. Toast, Jason Holland, Mark Scott, AmiWest,  and Paul Jacobson for making this show possible through their generous donation to the show.

Support our sponsor Retro Rewind for all of your Commodore needs! Use our page at https://retrorewind.ca/pixelgaiden and our discount code PG10 for 10%