Episodes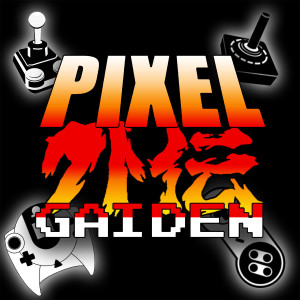 Tuesday Nov 15, 2022
Tuesday Nov 15, 2022
We're back for Episode 94!

In this episode Cody and Eric catch up on the news +  6 Good Tactics Games
We are doing news for the first monthly episode and then "catching up" later in the month.
Episode Guide
----------------
5:39 - Quick Questions
18:12 - Patreon Song
21:52 - Tea Time With Time
48:28 - News
1:55:30 - 6 Good Tactics Games
News -    
(codY) Sven Krasser game Cab Hustle no longer regulated to the Zzapp64 cover disc.  
https://svenatl.itch.io/cabhustle 
(Tim) - Playable demo of new racer coming on Steam real soon, SP Grand Prix by @RozzBozzy on twitter: 
https://twitter.com/RozzBozzy/status/1588661385671495680?s=20&t=wp0FRjurK-EFLGEXk8AY9w  
(Eric) Vectrex Minestorm on Pico 8 (COOL) - https://www.lexaloffle.com/bbs/?tid=46482 
Cody – SD Snatcher on Twitter mentioned that Yazzie on MSX has a final remastered version with many enhancments and 10 more levels. 
(Tim)  - Ricki Sickenger who is one of the creators of the fantastic Rouge64 and who are now working on RogueCraft the follow up for the Amiga has posted a blog about writing Rogue64. The blog goes in to detail about how the game came about with the starter Rogue4k and developed from there. Well worth a read while we wait for RogueCraft to come out. 
http://www.sickenger.com/2022/02/20/how-we-made-a-commodore-64-roguelike/ 
Cody – Starfox Exploration Showcase MOD - https://www.indieretronews.com/2022/11/starfox-ex-this-hack-takes-90s-hit-game.html#more 
(Eric) Investigative reporting – Wrestlequest 
https://wrestlingnews.co/wwe-news/jeff-jarrett-comments-on-road-doggs-current-wwe-role-his-addiction-issues-in-the-90s-wrestlequest-game-update 
https://www.gematsu.com/2022/11/wrestlequest-launches-in-may-2023 
Cody – Vradarks Revenge - https://zxonline.net/vradark-s-revenge-is-out/ 
(Tim) - Not sure if we mentioned it last month but Beamrider the great early Atari 2600 shooter from Activision has been ported to the Pico8 by Paul Hammond (@paulhamx) on twitter. A faithful and fun recreation for the Pico8 and is a free download from his Itch.io page (pahammond) 
https://pahammond.itch.io/beamrider 
(Eric) AQUABYSS - Eagerly awaited Amiga game by AgedCode gets an official release! - https://buff.ly/3SqpIvT #commodore #news (From Indie Retro News) 
CODYS NEWS OF THE WEIRD -  
https://www.nintendolife.com/news/2022/11/random-metroid-prime-devs-kept-a-gamecube-in-the-freezer-to-run-patch-code 
https://www.nintendolife.com/reviews/switch-eshop/save-room 
https://kotaku.com/sakuna-of-rice-and-ruin-nintendo-switch-ps4-japanese-s-1848767765 
Acclaim Marketing Stunts  https://www.blockfort.com/other-lists/publicitystunts/ 
(Eric) Get Your Barf Bags Ready! Our new NES game Garbage Pail Kids: Mad Mike & the Quest for Stale Gum is out now on Nintendo Switch, Xbox, Playstation, Epic Games Store & Steam with the NES cartridge release to follow in a few months! http://gpkgame.com 
Cody - https://www.nintendolife.com/news/2022/11/warp-drive-brings-f-zero-style-racing-with-cel-shaded-visuals-to-switch-next-month 
(Eric) Xbox Series X and S can run PS2 games at 4K 60fps - https://www.gamingbible.co.uk/news/xbox-series-x-can-run-ps2-games-at-4k-60fps-20221026 
(Eric) Sega Has Considered Dreamcast & Saturn Mini But Is Worried About Extreme Costs 
(Eric) You Can Now Play Gameboy Games On The Steam Deck  
https://retrododo.com/epilogue-gb-operator-steam-deck/ 
Cody – NESDEV 2022 https://itch.io/jam/nesdev-2022/entries 
(Eric) Released on Nov 11th!!! - https://store.steampowered.com/app/1919470/Atari_50_The_Anniversary_Celebration/ 
Please give us a review on Apple Podcasts!
Thanks for listening!
You can always reach us at podcast@pixelgaiden.com. Send us an email if we missed anything in the show notes you need. You can now support us on Patreon. 
Thank you to Henrik Ladefoged, Roy Fielding, Matthew Ackerman, Josh Malone, Daniel James, 10MARC, Eric Sandgren, Brian Arsenault, Retro Gamer Nation, Maciej Sosnowski, Paradroyd, RAM OK ROM OK, Mitsoyama, David Vincent, Ant Stiller, Mr. Toast, Jason Holland, David Motowylak, Mark Scott, Vicky Lamburn, Paul Jacobson, and Adam from Commodore Chronicles for making this show possible through their generous donation to the show.

Support our sponsor Retro Rewind for all of your Commodore needs! Use our page at https://retrorewind.ca/pixelgaiden and our discount code PG10 for 10%