Episodes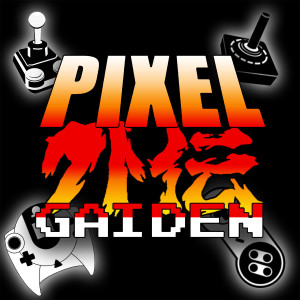 Thursday Dec 15, 2022
Thursday Dec 15, 2022
We're back for Episode 96!

In this episode Cody and Eric catch up on the news +  6 Good Bow And Arrow Games.
We are doing news for the first monthly episode and then "catching up" later in the month.
Episode Guide
----------------
3:04 - Quick Questions
17:27 - Patreon Song
28:15 - News
1:27:55 - Cody's Corner
2:17:36 - 6 Good Bow And Arrow Games
News -    
(Eric) - 'RINGO'. A  ZX Spectrum 128k game in which the creators have said it was made in an "experimental graphics mode" - https://www.indieretronews.com/2022/12/ringo-new-zx-spectrum-game-made-in.html 
(Cody) Mario Kart 8 Pack 3!   New tracks and no more lightning gap issue!  And custom items. 
https://www.nintendolife.com/news/2022/12/psa-lightning-no-longer-cancels-your-glider-in-mario-kart-8-deluxe 
(Eric) Uridium - A demo of the unofficial Amiga version of Uridium has been found 
 (Tim) - BBC Micro legendary title, Elite has been remastered using the popular View Data text mode or more well known name in the UK "Teletext". This is a mode on the BBC that was also used back in the 80's as a form of generating information pages available through your TV that sat below the regular TV signal. Using the correct type TV's you could switch to view the data (hence view data) on your screen. Now using that mode on the BBC Mark Moxon has spent time converting Elite to this very unique graphical style. 
You can find Mark on Mastodon here: @markmoxon@universeodon.com 
Also you can find the downloads of Teletext Elite on his website: 
https://www.bbcelite.com/hacks/teletext_elite.html 
Or if you don't have a real Beeb then you can play it through your browser here: 
https://www.bbcelite.com/hacks/teletext_elite.html 
(Cody) Over 500k of Evercade EXP units stolen in warehouse transfer. 
https://www.eurogamer.net/over-500k-of-evercade-stock-reported-stolen-in-terrible-potentially-organised-attack 
(Cody) - Evercade Indies Heroes 2 - https://evercade.co.uk/cartridges/indie-heroes-collection-2/ 
(Eric) Teenage Mutant Ninja Turtles (ARCADE) is being ported over to the Sega Master System! 
https://www.indieretronews.com/2022/12/teenage-mutant-ninja-turtles-arcade-is.html#more 
(Cody) -Return To Castlevania In The Next Dead Cells DLC, Arriving Q1 2023 
 https://www.nintendolife.com/news/2022/12/return-to-castlevania-in-the-next-dead-cells-dlc-arriving-q1-2023 
(Eric) The Arduboy Mini Is a Matchbook-Sized Retro Handheld Packed With Over 300 Games (Schools) - https://gizmodo.com/arduboy-mini-maker-handheld-retro-gaming-tiny-portable-1849822484 
(Cody) Dragon Quest III HD-2D Remake News Coming "Soon" Teases Series Creator - https://www.nintendolife.com/news/2022/12/dragon-quest-iii-hd-2d-remake-news-coming-soon-teases-series-creator 
(Tim) - Rod and the team from The Future Was 8 Bit have been busy working and releasing some new 8 Bit games. 
First up is: SGATBG – A snake type game for the unexpanded VIC20 
https://www.thefuturewas8bit.com/cas034.html 
Next is: Rigel Attack for the VIC20 with 8K expansion – A colourful space shooter 
https://www.thefuturewas8bit.com/cas032.html 
Another: Super Monza Grand Prix for the VIC20 with 16k Expansion – A Pole Position type game using smooth scrolling on the VIC20, very good racer considering the limitations of the VIC20 
https://www.thefuturewas8bit.com/cas031.html 
A C64 release called Toxic Frenzy  
https://www.thefuturewas8bit.com/cas030.html 
Last but by no means least – TJ's Cavern Capers by Gaz Marshall – A classic style Speccy platformer with excellent music for the Speccy 128k.  
https://www.thefuturewas8bit.com/cas027.html 
(Cody) 3D Realms release Cultic - https://store.steampowered.com/app/1684930/CULTIC/ 
(Eric) Vampire Survivors DLC inbound -  
 https://www.engadget.com/vampire-survivors-dlc-legacy-of-moonspell-194536374.html?guccounter=1&guce_referrer=aHR0cHM6Ly93d3cuZ29vZ2xlLmNvbS8&guce_referrer_sig=AQAAALJDAY1thiLFVl3HH_ePlbc17qz6sDR--WoaMqNsbkbRIYSt_UFXs9l8-OQwxowKIcFrbnxO_lp4wu_aAdqWlei--E9-K43oIfDRn7UfJFU4kN3qeoDCwlD077bU16IONr_Ka4aRajocH9JvuDAmmVGjx2DU3zOjEt63Q7DJBXoC 
(Cody) Toe Jam and Earl the movie? - https://retrododo.com/toejam-and-earl-movie/ 
(Eric) - Metal Gear Solid 3 Remake Rumors Intensify Following New Evidence 
https://comicbook.com/gaming/news/metal-gear-solid-3-snake-eater-mgs-remake-rumors-konami-virtuos/ 
(Cody) Sega of America opens new offices in Irvine CA along with Atlus - https://www.nintendolife.com/news/2022/12/sega-of-america-opens-new-office-in-california 
(Eric) Muddy Racers is NOW AVAILABLE for the C64 - https://www.protovision.games/shop/product_info.php?products_id=386&language=en 
(Cody) - Jerry Lawson Tribute on Google!  -  https://www.levelup.com/en/news/712702/Jerry-Lawson-paid-tribute-by-Google-the-creator-of-Fairchild-Channel-F-in-todays-Doodle 
(Cody) - Rare and Most Valueable Atari 2600 Games - https://retrododo.com/rare-atari-games-2/ 
(Eric) Juan J. Martínez - Just released Hyperdrive, a shmup for the Amstrad CPC - https://www.usebox.net/jjm/hyperdrive/ 
(Cody) IGN Best action game of 2022 – Cult of the Lamb, Vampire Survivors, and TMNT Shredders Revenge along with Bayonetta 3 and Sifu.  IGN 
IGN best racing game mentions Horizon Chase 2!  Only on Apple Arcade Currently. 
Please give us a review on Apple Podcasts!
Thanks for listening!
You can always reach us at podcast@pixelgaiden.com. Send us an email if we missed anything in the show notes you need. You can now support us on Patreon. 
Thank you to Henrik Ladefoged, Roy Fielding, Matthew Ackerman, Josh Malone, Daniel James, 10MARC, Eric Sandgren, Brian Arsenault, Retro Gamer Nation, Maciej Sosnowski, Paradroyd, RAM OK ROM OK, Mitsoyama, David Vincent, Ant Stiller, Mr. Toast, Jason Holland, Mark Scott, Vicky Lamburn, Mark Richardson, Scott Partelow, Paul Jacobson, and Adam from Commodore Chronicles for making this show possible through their generous donation to the show.

Support our sponsor Retro Rewind for all of your Commodore needs! Use our page at https://retrorewind.ca/pixelgaiden and our discount code PG10 for 10%